Vag-Prog Locksmith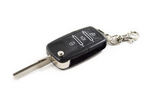 This is European high quality product with 2-year warranty.
VAG-PROG Locksmith
is special version of
VAG-PROG
, that is designed for companies engaged in production of spare car keys, roadside assistance, car repairs, etc.
VAG-PROG Locksmith works with immobilizer and engine control units, from which can be read security information (5 digit PIN code), and then allows you to code a new key or perform a pairing engine and immobilizer ECU.
Basic functions:
PIN code reading - reads vehicle security code for login operation, ECU pairing, etc.

Login function - "login" to control unit will unlock the control unit for key coding, etc.

New keys coding - will add new keys to immobilizer

ECU pairing - allows you to "pair" replaced engine control unit or immobilizer (eg. after crash)

Fault code clearing
Vag-Prog Locksmith is primarily used by locksmiths who do not use other functions such as memory editing or odometer setting.
List of supported control units can be found at this link.

VAG-PROG includes safety waiting for 5 minutes during which you must wait before displaying a security vehicle data (eg. VIN code). This protection is used to prevent misuse of the program.
Hardware and software requirements
Vag-Prog can be ideally used on portable computer - laptop or netbook, but it can be used as well on personal computer. For connection to vehicle is used MicroOBD diagnostic interface, that connects to USB port of your computer.
Minimum PC requirements:
Operating System: WinXP or higher
Memory: 512 MB
Processor: 800 MHz
Ports: 1 x USB (outdated SiS700 OHCI chipset is not suitable )